Building your own reflow oven for home PCB reflows can be a very rewarding experience. There's no shortage of guides, code, and designs online to get going. Some of the notable projects include the Whizoo Controleo3 prebuilt oven controller, and the ReflowMaster open-source controller (featured in our Featured Projects section).
Though this list isn't comprehensive, it includes some of the essential items you'll need to convert your toaster oven to a home-made reflow oven (excluding controller and electronics – article coming soon.
The image below shows an intermediate step in toaster-oven to reflow conversion. Individual parts labeled according to the list below.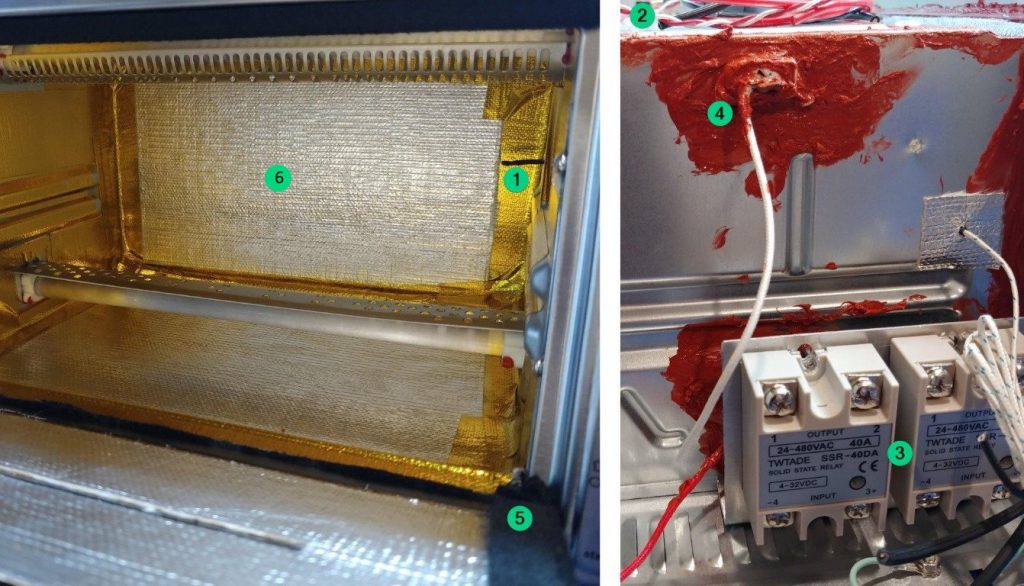 (This post contains Amazon links, CircuitSnoop may earn a small commission for my endorsement, recommendation, testimonial, and/or link to any products from this website)
It is worth mentioning again that this list is by no means exhaustive for a complete DIY reflow oven build, but these items are crucial for most builds and will not break the bank.